Receive expert maintenance and restoration
Don't leave anything to chance when it comes to the roof over your head – let our team of experienced contractors offer you the best in maintenance and installation. We specialize in roof repair and hail damage in the Branson area and throughout Missouri. We work with you from the start through the entire process of assessing hail damage to roofing and siding as well as the costs involved and what insurance companies are looking for.
Warrantied work for roofs
• Asphalt
• Shingles – 30, 40, and 50-year warranties available
• Flat roofing
• Metal roofing
• Repairs for storm and hail damage
• Roof removal
• Skylight installation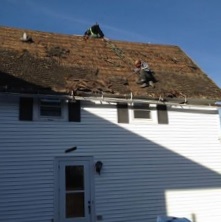 Let us help make insurance simple
If your property has been damaged by hail, wind or other storm conditions, we can help you sort out inspections and plan for maximum insurance coverage.
Have a look at a few testimonials from our loyal customers now to see the kind of personalized service you'll receive when hire us for work on your home or business.