Expert advice and inspection for hail damage
There's nothing to fear from Mother Nature, when you have Custom Renovations' crew of experienced contractors on your side during inspections for insurance and mortgage providers. Hail storms and roofing do not go together. Custom Renovations has experience with all kinds of roof and siding damage from hail storms and know how to repair the roofs correctly and do so within the guidelines that the insurance gives.
Insurance inspections and more
• Free inspections after hail and storm damage
• Storm and hail damage repairs
• Roof removals
• New roof installation
• Follow-up maintenance
• Siding
• Waterproofing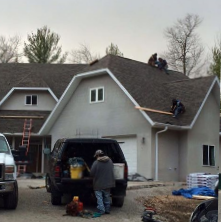 Everyday maintenance, installation
Whether you're trying to get storm repairs underway or taking care of routine maintenance for your roof, Custom Renovations can help.
Our professional insurance adjustments and inspections will make the entire process easy from start to finish. If you're in need of storm and hail damage repair, get in touch today.